Redemption Road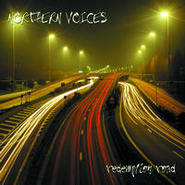 REDEMPTION ROAD – The CD
Redemption Road is the second CD of the Utah-based group, Northern Voices. The Shadow Mountain release features the lead vocal talents of some of Utah and the Rocky Mountain West's finest singers, including John McVey, Nancy Hanson, Brett Raymond, Peter Breinholt, Kalai, April Meservy, Rob Wannamaker and Hilary Weeks. Produced and arranged by Sam Cardon, this musically eclectic album of 13 songs features songs written by Cardon and long-time lyricist collaborator, Don Stirling.
Redemption Road is an album that speaks to kindness, to forgiveness, to friendship and to the wondrous influence that love, hope and redemption can have amidst the rough and tumble of life. The songs are at once fun, joyful, and romantic, all set against a very "listenable" musical landscape.
NORTHERN VOICES – The Group
Northern Voices is the collaborative group of vocalists and musicians that gathers together on an ongoing basis to record and perform the songs of nationally recognized and award winning composer, Sam Cardon, and gifted lyricist, Don Stirling.
Their debut CD, Faithful, released in 1994, yielded three national radio airplay songs, including "If She Only Knew" (sung by Brett Raymond), which cracked the Top 40 on The Gavin Report Adult Contemporary chart, and "Faithful" (sung by Elizabeth Wolfgramm of The Jets), which earned a positive review in Billboard. A third single, "Tell Me I'm Not Wrong Again," also received national airplay.
On Northern Voices' second CD, Redemption Road, Brett Raymond once again provides vocals, including the title track, "Redemption Road," as well as on the funky and fun, "She Got Cha-Cha." Though familiar to the music world, Northern Voices newcomers include John McVey ("Dance Upon Orion," "Silent Night, "Lonely Night," "Come to Know," and "What Love Reveals"), Hilary Weeks ("Goodnight, Bordeaux"), Nancy Hanson ("Jack and Jill"), April Meservy ("For You"), and Kalai ("This High Road"). Also providing vocals on Redemption Road are blue-eyed soul man, Rob Wannamaker ("Late, Great L.A. Boys") and the popular New Folk/Americana artist, Peter Breinholt ("Mother Lode").
Redemption Road assembles fresh, energetic talent and combines that talent with songs that dig deep and tell real stories. The result is absolutely stunning. As a songwriter I'm going to work another 20 years and hope to write a song like "Come to Know." When you speak of the immense talent and the amazing musicians that live and breathe and work right here in our own backyard, you have no idea what's out there until you hear his record. It will blow you away.
-Tyler Castleton
2001 FCMA Pearl Award Songwriter of the Year
Tracks Include:
Dance Upon Orion
For You
Silent Night, Lonely Night
Goodnight, Bordeaux
Late, Great L.A. Boys
Come to Know
Mother Lode
Jack and Jill
Redemption Road
This High Road
She Got Cha-Cha
What Love Reveals
Redemption
[iframe style="border: 0; width: 100%; height: 120px;" src="https://bandcamp.com/EmbeddedPlayer/album=1513080903/size=large/bgcol=ffffff/linkcol=0687f5/tracklist=false/artwork=small/transparent=true/" seamless><a href="https://northernvoices.bandcamp.com/album/redemption-road">Redemption Road by Northern Voices</a>]